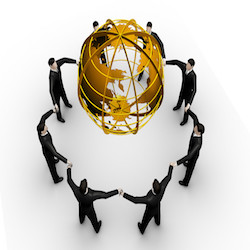 How do you work successfully with a team member who is sitting halfway across the world from you? This has become a necessity in today's workplace environment.     Almost half of the organizations worldwide use virtual teams.   Most of them have said that building team relations in a virtual team setting is their biggest challenge to achieve success.
What is a virtual team?  A virtual team is a group of people who work across time and geographical barriers and are able to collaborate with each other using communication software and technology. Virtual teams were created to limit travel and relocation expenses and to give organizations the benefit of being able to use talent wherever it existed. This caters to people who don't want to move or travel that much.  Virtual teams keep them from uprooting themselves and their families, or allow them to telecommute and yet be part of the global workforce.
Why is it such a big obstacle to build successful team relations with virtual teams.   Not everyone is made to be part of a virtual team.   Virtual team members must have motivation, initiative and also skills to work independently for long periods of time.    Communication skills are vital, especially now that most virtual team members need to communicate clearly and effectively with other team members who may belong to different locations, cultures, languages and so on.
A successful virtual team would typically have the following characteristics:
Clear objectives and goals.

Open and clear communication channels where it is easy to talk to one another to confer about problems and possible solutions.

Advanced web conferencing software and/or video conference setup.   There are many options available in the market at varying price points – e.g. GoToMeeting, Webex and more.  Higher end options such as remote presence and telepresence are also available and effective. Some examples are Cisco Telepresence and Nefsis. If you are looking for the "WOW" Factor, collaboration can be taken one step further with telepresence robots such as BEAM, Vgo and Double Telepresence.

Well defined team structure.  Each team member must know their role and others' roles in the organization.

Cooperation among team members.   Clearly this is something that needs to be developed and nurtured.   Some examples of building cooperation are with team building activities.   There are several online and remote games possible that can enhance team relations, strengthen bonds and really optimize efficiency at work.

Trust.   Trust is an issue that can make or break teams and is much different in face to face environments than in virtual team environments. Building trust also comes with time and a good leader can inculcate trust by making decisions with integrity, by fulfilling commitments and in general, by leading by example.
A virtual team is often made up of people with different backgrounds and experiences.    A successful virtual team can maximize productivity by leveraging these differences.  As Stephen Covey said, "Strength lies in differences, not in similarities".
By Akhil Deo